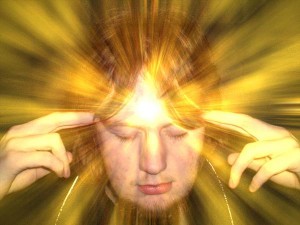 Sometimes we just can't seem to focus, our mind wanders and we sit for hours and get nothing done. Other times we may just be "in the zone"; we get lots of work done, ideas flow freely, and our concentration is sharp. When we can concentrate like this we get much more done – if only we could tap into this level of concentration naturally.
Well we can – some people naturally have enhanced levels of concentration – they don't have "hot" and "cold" spells – they can enter a deep state of concentration whenever they need to – in essence their brains are wired a little differently. However there are things all of us can do to mimic these people and develop higher levels of concentration too.
Here are four things you can do straight away to enter a higher state of concentration at ease:
Focus on just one thing:
Often we have a hundred things running through our head.  Perhaps you have your emails open, while trying to write a report from your boss, you keep getting interrupted by phone calls, and you are just finishing another project you started yesterday – sound familiar? We often struggle to get anything done as we have so much going on in our heads.
Instead make a priority list of things you have to get done and work through them one at a time. You are not ignoring the other tasks that need to be done, you are just prioritizing them. Which leads on to the next point:
Set time limits and plan your day:
As well as focusing on just one thing as mentioned above if you combine this with splitting your day up into blocks where you concentrate on one activity at a time then you won't stress as you know you will get to the next activity that needs to be done later.
Work to strict deadlines:
Also, we often work much more effectively when working to a deadline – even if it is a self imposed one. Towards the end of the deadline you will have a much heightened level of concentration – you know you only have a limited time to get the job done before you have to move on to something else. You can see this at the end of a working day in the office where you are rushing to get things done so you can leave on time, you get 3x as much done in half the time as you need to leave 🙂
Stop Procrastinating:
Is your lack of concentration just procrastination? Are you needlessly putting off starting a project?
Procrastination and concentration are enemies. You have to kill your procrastination before you can get stuck into any project. Ask yourself "Do I need to do this? Do I want to get it out of the way so it's not on my mind? Will it get easier if I do it later?" These questions will bring you face to face with the fact that the job task isn't going away,. Delaying it only adds to your mental stress, and makes it more of a chore, and ultimately the task consumes more of your mind power for longer.
Cut procrastination and you will improve your level of concentration tenfold!
This article was brought to you by Real Subliminal – you can also use the power of subliminal messages to help improve your concentration. This works by the principles of NLP – it will help rewire your mind to think like the kind of people who find it easy to concentrate by slowly making changes within your subconscious mind – view our subliminal improve concentration album here.