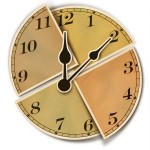 Do you have big time management problems? Do you spend your days struggling with your to do list and wonder why you never get finished?
Time mgt skills are really important for business minded people who have several vastly different things to do each day. Here is a quick article with our Top 10 Time Management Tips to help you boost your productivity ten fold and finish all your tasks – on time!
1) The Time Management Myth.
There is only24 hours in a day no matter how organized you are. Time never changes. All you can do is to make the best of the time you have, no one else can gain an advantange, you can not create more time, you can only use it better.
2) Where are you Wasting Time?
Figure out your bad habits.
Do you spend too much time checking emails, browsing the Internet, making phone calls you don't need to? Do you waste time chatting around the office?
Start to track your activities to gain a clear picture of your daily activities – so you can then axe the ones which are cluttering you up.
3) Write Your Time Mgt Aims
After removing all of your personal time wasters you need to set new, and more efficient goals.
For example; a goal not to take personal phone calls while at your desk. Or to only use the Internet during office hours to read the news on a morning and do your work – the more specific these goals the better.
4) Start a Detailed Time Management Plan

Carrying on from number3: Yourobjective is to change your behavior so much that you will reach whatever goal you have set yourself e.g. Increasing your productivity / eliminating stress your stress. This involves not only writing down your aim, but mapping them out over time, to ensure you have stuck to them, write a full timetable of your activities if need be.
5) PRIORITIZE
At the start of everyh day you should  prioritize the tasks for the day. look at what you have to do, what you are getting behind on and write a quick list, for the order that things should be done in. How many tasks are critical – set those first, and do not move on to another task until the more critical one is completed.
As you commplete them you should tick them off, not only will this help you stay organized, you will feel a sense of acomplishment and be spurred on mentally to the next task.
6) Outsource or Delegate

Are you a control freak? Are you performing unrequired admin tasks, which could be performed by someone lower down the chain? If so then delegate these tasks, and free up your time for more critical business decisions, or more important tasks. Get some help, your time is valuable, so outsource admin, and other tasks which are not the best use of your time
7) Develop a Routine, and STICK TO IT

Simple – You will be 100x more productive if you can follow a strict routine during regular hours, getting your tasks done will feel natural, as you will do them over and over.
8.) Set a Time Estimate For Each Task
Do you spend too long on some things? One of the main time killers in the modern office is reading and answering emails – why not schedule 1 hour every day at a certain time for reading and answering all of your emails?  (And STICK TO IT) You should use this principle for all your tasks, it will help improve your efficiency dramatically if you think at first "How long should this task take me?"
9) Get Your Systems Organized.
Take some time to get your systems – whether computer or physical – in place before you begin. You can have an excellent time management plan, but if your records, files, and systems are all over the place they will slow you down and cause costly delays.
10) Never Just Wait
Sometimes it is hard to avoid waiting, but as much as you can don't just sit around staring into space – at the very least use waiting times – bus journeys, traffic jams, dentist waiting rooms to read up on improtant subjects, or expand your mind – always have something to do if you get caught up unexpectedly waiting, whether it is a book, an audio cd, or a blank pad of paper to plan with.
Time Management is not a natural skill, it is something that you (that ANYONE can learn) and the above 10 tips are the foundation of effective time management – implement them today and take control of your time, productivity, efficiency, and your LIFE!
This article was brought to you by Real Subliminal – Try our subliminal time management album to help align your mind to your conscious goal of improving your time management and disolve the unconscious barriers to your success.